Next Genshin Impact banner: release date, time, and featured characters [Version 3.6]
Current event: Version 3.6 brings reruns for Nahida and Nilou! Up next: Baizhou and Kaveh debut alongside a Ganyu rerun
Who is featured on the Genshin Impact banners in Version 3.6, and when will it go live? Genshin Impact works on a gacha system, where players can spend various in-game and real-world currencies to Wish on a character's banner in the hopes of obtaining a playable version of them.
While many characters are permanently available as potential pulls from the gacha, others — usually 5-star characters — are only available during limited periods as part of Character Event Wish banners. Every Character Event Wish banner features one 5-star character and three 4-star characters with a massively increased drop rate, and the 5-star character is often unique to the banner and unobtainable in any other way.
On this page, we've compiled everything we know about Genshin Impact's current and upcoming banners, including release dates and times for the next banner changeover. Further down the page, we've included some information about characters who are available to purchase from the current and upcoming stock in Paimon's Bargains.
Genshin Impact: current event banners
The concurrent Character Event Wish banners in Genshin Impact for Version 3.6 (Phase 1) are The Moongrass' Enlightenment and Twirling Lotus, featuring first-time reruns for Nahida and Nilou respectively. These banners have been available to wish on since April 12th at 4am BST / April 11th at 11pm EDT / 8pm PDT, and are expected to end on or around May 2nd (exact end times TBC).
These banners also introduce feature 4-star characters Dori, Layla, and Kuki Shinobu with a boosted drop rate. Note that while the promoted 4-star characters can be pulled from either banner, the featured 5-star characters can only be pulled by wishing on their own individual banner. However, pity accumulates on and is shared between both concurrent Character Event Wish banners.
See below for full details on the characters with increased drop rates on the current banners: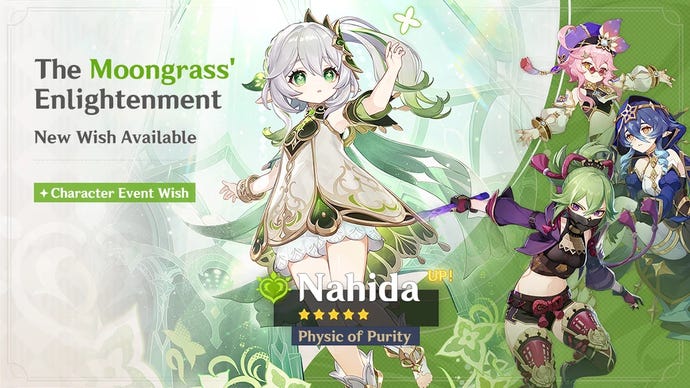 The Moongrass' Enlightenment
Nahida (5-star)
Dori (4-star)
Layla (4-star)
Kuki Shinobu (4-star)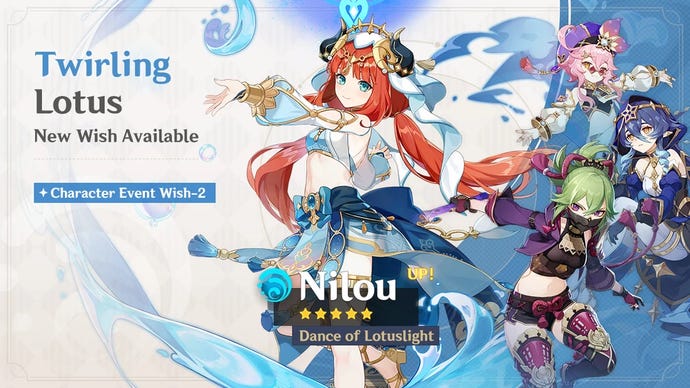 Twirling Lotus
Nilou (5-star)
Dori (4-star)
Layla (4-star)
Kuki Shinobu (4-star)
---
Genshin Impact: future event banners
Version 3.6 (Phase 2) of Genshin Impact is expected on or around May 2nd, 2023. Exact start times are TBC, but Phase 2 usually arrives as soon as Phase 1 ends.
To make up for the lack of new characters in 3.6.1, Phase 2 will introduce new playable 5-star Baizhu and new 4-star Kaveh alongside a rerun for longtime favourite Ganyu.
We'll update you with details on the 4-star characters featured in Phase 2 nearer the time!
---
Paimon's Bargains and the Starglitter Exchange
Wishes and banners aren't quite the only way to increase your party roster in Genshin Impact. There is another corner of the in-game store where you can potentially get your hands on some new playables. Check out Paimon's Bargains for a regularly rotated stock of common 4-star characters you can purchase outright in exchange for Masterless Starglitter, a currency generated from pulling duplicate characters and high-end weapons from the gacha.
The Starglitter Exchange features two characters every calendar month, and though they're a little pricey at 34 Masterless Starglitter each, this is a guaranteed purchase rather than a gamble. For April 2023, the characters in the Starglitter Exchange are Amber and Razor.
Paimon's Bargains seem to work on a regular half-yearly rotation, so here's who we can likely expect to see on offer in the Starglitter Exchange over the next few months:
Genshin Impact gets a new event banner every three weeks, so be sure to check back for news about upcoming banners! To get to grips with your odds of actually pulling that elusive 5-star character, check out our page explaining Genshin Impact's pity system. In the meantime, if you're eager to get wishing but have made the commendable choice not to put your real money into a gacha, our guide on getting more Primogems in Genshin Impact can help you to maximise your in-game earnings.