RPS@PAX 2023: We chat with Necrosoft Games about their spooky-not-scary tactical horror RPG Demonschool
Our first indie highlight from the show floor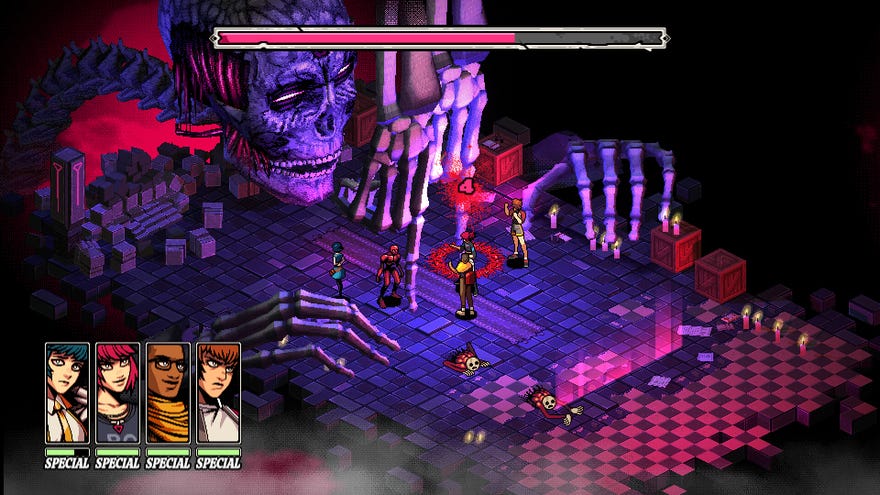 It's day one of PAX East and what better way to kick off our show coverage than highlighting a great indie game! We first came across Demonschool back at PAX West last year and have loved it ever since. It's a slick, tactical Persona-like where you play as a band of university students navigating school life by day and beating up ghosties and ghoulies by night.
I had a chat with Demonschool's Jenna Stoeber who talked me through what Demonschool is about, the game's many horror inspirations, and what spooky shinanigans players can expect. If the giant skeleton lad in the game's trailer and demo is anything to go by, we're in for a treat. You can watch the full interview by watching the video below:
If you've haven't yet, set your peepers on Demonschool's slick trailer to see what demon hunter Faye and her gang of misfits are up against. There's no concrete release date, but like Jenna said, Demonschool should be out sometime in 2023 with a playable demo available in May.
We've got plenty more interviews, demos, and highlights lined up for the rest of the week and you can find all our PAX East coverage by checking out our RPS@PAX tag.
Read the rest of this article with an RPS Premium subscription
To view this article you'll need to have a Premium subscription. Sign up today for access to more supporter-only articles, an ad-free reading experience, free gifts, and game discounts. Your support helps us create more great writing about PC games.
See more information