RPS@PAX 2023: The coolest things we saw on the show floor
A robot dinosaur, a giant treehouse, and more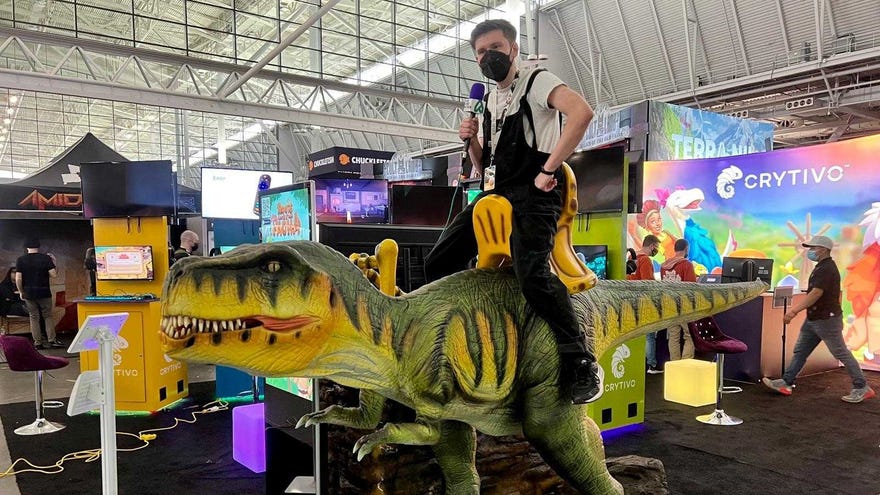 It's almost become an RPS tradition to search the show floor at PAX events and find the coolest stuff and highlight it in a video, so that's exactly what we've done at PAX East. There's a lot of cool booths, fun props, and generally weird stuff to see, so we've chosen our absolute favourites and have listed them in video form for your viewing pleasure.
Everything at PAX East is situated in one massive hall (instead of PAX West's multiple floors, rooms, and buildings) so it's nice and easy to see everything in one or two loops. It doesn't feel cramped at all, even with Friday's busy crowds, and the booths are as spectacular as ever.
Some of our favourites included Devolver Digital's movie theatre-inspired booth, which has the new addition of a candle-lit shrine for Cult Of The Lamb's upcoming free expansion Relics Of The Old Faith. We also loved Ysbryd Games' Demonschool booth which had a school desk layout and cool retro TV. Another favourite was the animated robot dinosaur (complete with rideable saddle) that we found at the Roots Of Pacha demo builds.
Read the rest of this article with an RPS Premium subscription
To view this article you'll need to have a Premium subscription. Sign up today for access to more supporter-only articles, an ad-free reading experience, free gifts, and game discounts. Your support helps us create more great writing about PC games.
See more information