RPS@PAX 2023: Become besties with Greek gods on an accidental vacation in Mythwrecked: Ambrosia Island
A sun-drenched vacation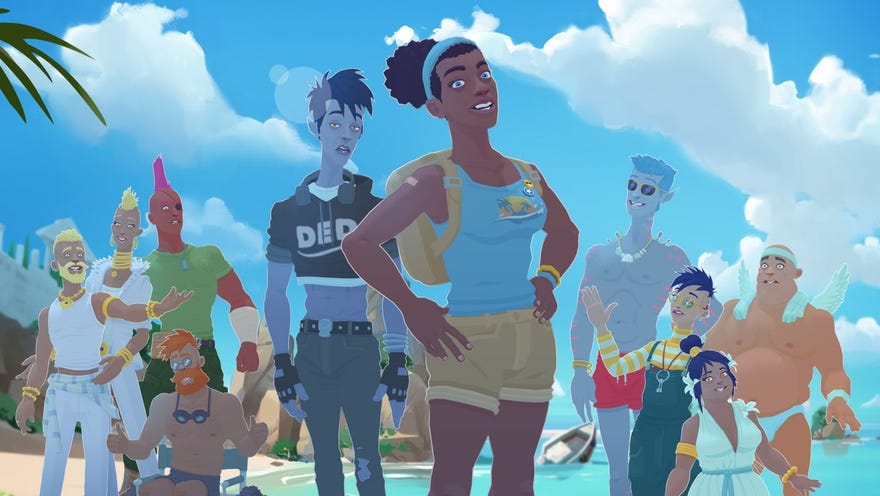 I really enjoyed dark fantasy adventure Roki when it first released back in 2020, and keen to see what developers Polygon Treehouse have gotten up to since, I jumped at the opportunity to play the PAX East demo for Mythwrecked: Ambrosia Island. You can watch my impressions of the demo in the video below:
In Mythwrecked you play as Alex, a backpacker who has washed up on the sun-drenched shores of Ambrosia Island. As she begins exploring, she soon realises that this island seems to be a hot spot for the gods from ancient Greek myths. Your task is to befriend each god, help them restore their memories, and find a way back to civilisation.
From playing the demo, you can see much of what made Roki fun reflected in Mythwrecked. The environments are interesting to poke around in, puzzles are breezy brain ticklers, and it has Polygon Treehouse's sense of humour. Each Greek god has a humerous twist on their lore, and during the demo I had a fun time chatting with Hermes, who is dressed in nothing more than a pair of skimpy white speedos and a matching white sweat band - a bold choice of attire.
Read the rest of this article with an RPS Premium subscription
To view this article you'll need to have a Premium subscription. Sign up today for access to more supporter-only articles, an ad-free reading experience, free gifts, and game discounts. Your support helps us create more great writing about PC games.
See more information