Haven Park mixes A Short Hike with Animal Crossing and is currently free to keep
Grab it from GOG before Jan 24th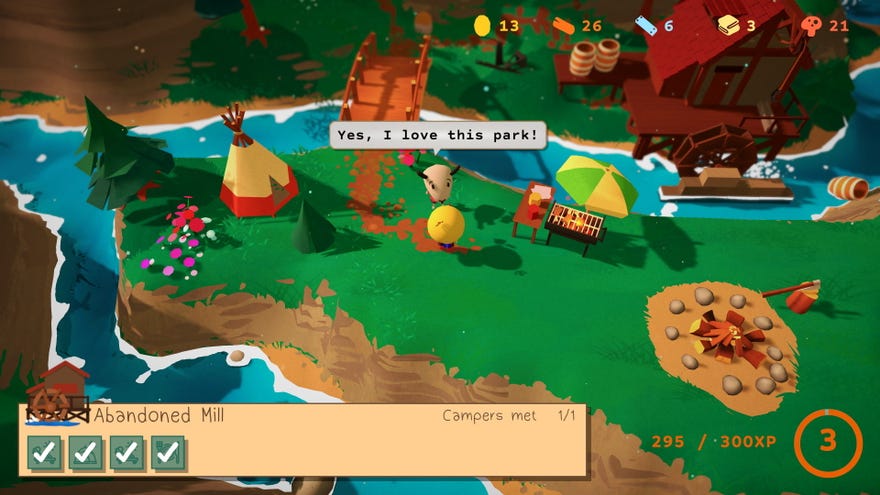 Are there any sweeter words than "A Short Hike-like"? Both because the sweet, mountain adventure is one of my favourite games, and because "Hike-like" is a fun rhyme. Well, anyway, Haven Park is like A Short Hike crossed with Animal Crossing, and it's currently free to keep from GOG.
Grab Haven Park from its GOG store page before the offer expires on January 24th and it's yours to keep forever.
Haven Park is about being a little bird fella called Flint who is trying to keep his grandma's park a friendly, functional place for the campers who come to stay there. You can learn the residents' desires and build what will keep them happy, while also exploring, chatting, and completing quests.
Katharine called it "cute, cosy fun" when she played its early hours back in 2021. That post used to be exclusive to supporters, by the way, but I've just set it free. I'm getting into the spirit.
Developer Fabien Weibel estimates it will only take two to four hours or so to 'complete' Haven Park, but based on what I've played so far, this is definitely a game I want to take my time with. The top down view means it shares that same sense of delight and discovery as A Short Hike, and at the moment I've probably spent more time just walking around collecting things than actually doing any campsite building. It's very easy to get distracted by some alternate route or some new trinket in the distance, but bumbling my way back to the beaten path is just as enjoyable, too. It's a game of detours and diversions, and I'm just having a swell time soaking it all in.
If that sounds like your thing, what have you got to lose.