Check out the Super Meat Boy spin-off puzzle game in a free demo
Block-droppin' meats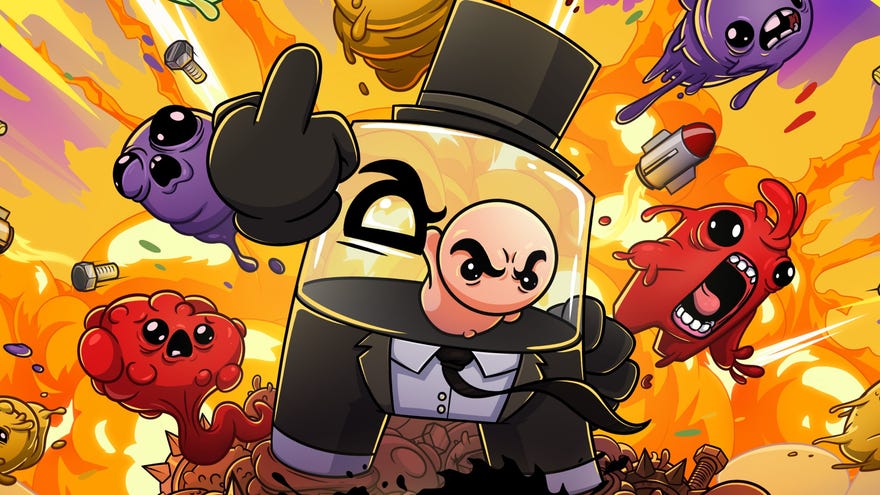 Falling-block puzzle games get a gory makeover in Dr. Fetus' Mean Meat Machine, a spin-off from Super Meat Boy. Rather than dodging buzzsaws and baddies while platforming, here you'll be doing that while dropping coloured blobs into grids to match chains of colours and make 'em vanish. You can see that for yourself, as Mean Meat Machine now has a free demo offering a taste ahead of the game's launch later this year.
Dr. Fetus' Mean Meat Machine is inspired by Puyo Puyo (and clearly Dr. Robotnik's Mean Bean Machine, a Puyo Puyo game wrapped in the skin of Sonic The Hedgehog). It's a bit like Tetris, only rather than dropping different shapes onto the grid and completing lines, you're dropping pairs of coloured blobs and need to create chains of four or more matching blobs. And then there are spinning sawblades you'll need to swerve your blobs around. And then there are saw launchers that regularly spit blades across the table. And then... it's got that Meat Boy murderous edge alright.
The Mean Meat Machine demo is available now on Steam, GOG, and the Epic Games Store. Along with the tutorial, the demo includes seven levels, leading to a boss battle.
I dig it. I'm not much of a Puyoneer nor Tertrinaut but this does have me curious to see more. The deadly elements add an interesting challenge, and it's variety I welcome as someone who hasn't already trained their brain to derive satisfaction from lightning-fast Puyotris block-dropping.
The full game is due to launch sometime this year, also hitting Xboxes, PlayStations, and Switch. It's being made by Headup in cooperation with Super Meat Boy studio Team Meat and SMB's artists.
It's interesting to see this after 2019's The Legend Of Bum-bo. Designed by Super Meat Boy co-creator Edmund McMillen, who left Team Meat years ago, it's a tile puzzler spin-off from his Binding Of Isaac. Like how Mean Meat Machine translates elements of SMB to grid puzzling, Bum-bo reworks elements of Isaac's roguelikelike dungeon-crawling into a tile-swapping deck-builder. Sooner or later, you can't resist a tile puzzler. See our review for more on that one.
The other Super Meat Boy games are going cheap in a Steam sale right now, by the way.