Best graphics cards 2023: the top gaming GPUs
Our top graphics card picks for 1080p, 1440p and 4K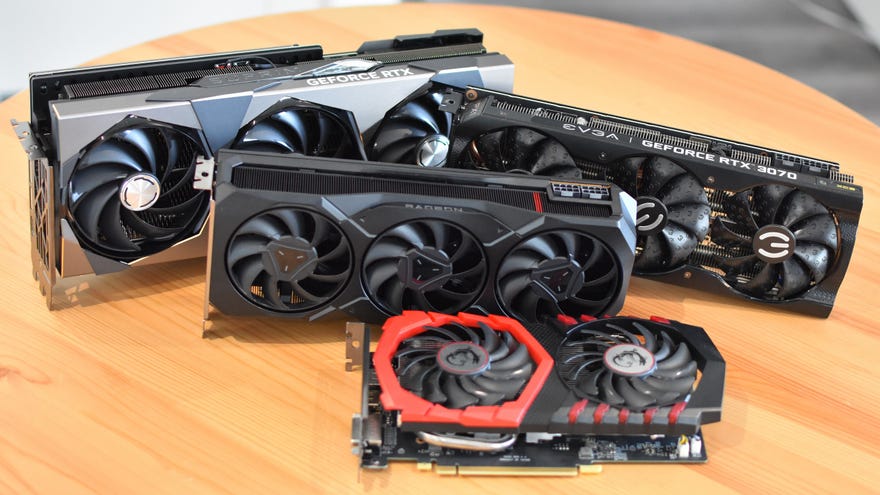 I'd love to be updating this best graphics card list with the latest and greatest from Nvidia and AMD, but as the hyperinflated GPUcalypse of 2020-2022 shows, you can't always get what you want with these things. Far from delivering relief for two years of stock shortages and ripoff reselling, the newest GeForce RTX 40 series and Radeon RX 7900 series are currently comprised entirely of super-high-end monster cards designed for 4K monitors. They have appeal if you're willing to pay top dollar, but are – with one exception – hardly your "best" options for most games and resolutions.
As it stands, then, there's much more value to be found in the previous generation of GPUs. The GeForce RTX 30 series stands up particularly well, combing strong base performance with the added benefits of DLSS upscaling support and ray tracing capabilities that leave AMD (and Intel Arc) graphics cards eating some attractively light-diffusing dust. Even with new-for-2023 games like Forspoken and Returnal asking for much in the PC system requirements, the cards on this list will handle anything, even if it takes some lowered settings to get the fastest framerates.
I've still added the RTX 4070 Ti as our new 4K graphics card pick, as while it's had a massive price rise on the RTX 3070 Ti, it's also gained enough power to comfortably outpace both that and the RTX 3080 at this resolution. Its support for DLSS 3, which can boost framerates well beyond previous versions, also comes in particularly handy – though the older DLSS versions used by RTX 30 models will do fine for 1440p and 1080p, if indeed you need the extra frames in the first place.
The best graphics cards for gaming
---
Nvidia GeForce RTX 3050
The best cheap 1080p graphics card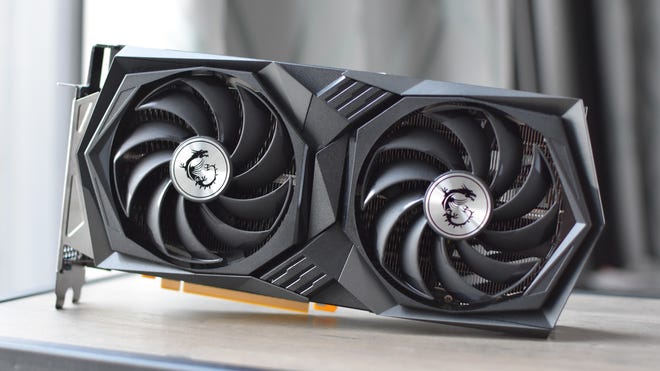 "Cheap" has become an even more relative term among graphics cards, unfortunately, but here's a fact: the Nvidia GeForce RTX 3050 is the cheapest GPU on the market to offer Nvidia's RTX features. Namely, ray tracing and DLSS support. Even older cards like the RTX 2060 can set you back more, and while the competing Radeon RX 6500 XT is even more affordable, I found AMD's GPU performs really quite poorly in comparison to the RTX 3050.
Granted, the MSI-built RTX 3050 I tested costs £350 / $330, and for just a bit more you could upgrade to an RTX 3060. But if you find a cheaper model, which are plentiful, you'd get a far better deal for this highly capable 1080p GPU (which also has some limited 1440p capability). Especially thanks to DLSS, which is essentially free FPS, and is missing from both AMD's cheaper cards and the RTX 3050's own predecessors, like the GTX 1650 Super.
What we like:
✔️ Can get most games to 60fps on high/maximum settings at 1080p
✔️ DLSS and ray tracing support
✔️ Faster than the AMD Radeon RX 6500 XT

Read more in our Nvidia GeForce RTX 3050 review
---
Nvidia GeForce RTX 3060
The best 1080p graphics card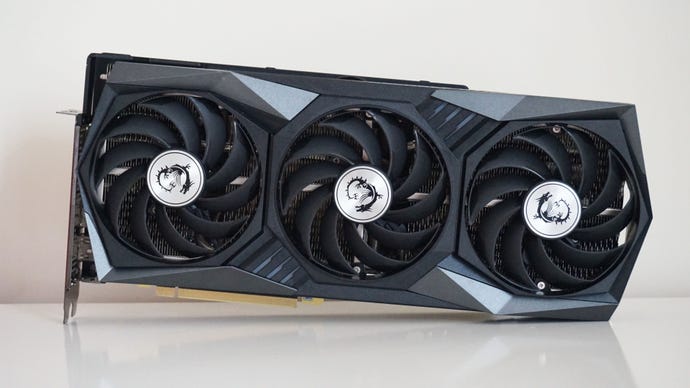 Provided you can spare the cash over the RTX 3050, the Nvidia GeForce RTX 3060 is currently your best bet for combining affordability with 1080p performance. You still get DLSS and ray tracing support, and with the latter, you probably won't need to cut as many other quality settings to maintain a good frame rate as you would on the RTX 3050.
At 1920x1080, you can generally expect average framerates to exceed 60fps, even when deploying maxed-out graphical settings. The RTX 3060 even has some 1440p chops, though the souped-up RTX 3060 Ti (below) is better suited for Quad HD duties.
What we like:
✔️ 60fps speeds on max settings at 1080p
✔️ Can handle High settings at 1440p too
✔️ Lower power usage than the RTX 3060 Ti

Read more in our Nvidia GeForce RTX 3060 review
---
Nvidia GeForce RTX 3060 Ti
The best 1440p graphics card
Playing games on max settings at 2560x1440 requires a lot more horsepower than it does at 1920x1080, but Nvidia's GeForce RTX 3060 Ti is currently the card to beat for 60fps speeds on maximum settings. It does seem to be one of the more stubborn graphics cards in terms of price drops, but if you can catch it in a sale, you won't regret the purchase. Not only is it capable of hitting 60fps speeds on max settings in visually demanding games like Assassin's Creed Valhalla, but it's also capable of delivering frame rates upwards of 70-80fps in slightly older blockbusters as well.
The RTX 3060 Ti also has significantly improved ray tracing performance compared to Nvidia's previous generation of RTX cards, meaning you can actually play today's crop of ray tracing games at 1440p instead of having to settle for 1080p. If ray tracing is particularly important to you and you've got the budget, you may want to think about the RTX 3070 instead, though, especially if you've got a high refresh rate monitor. For more info and benchmark results, check out our RTX 3060 Ti vs RTX 3070 comparison.
What we like:
✔️ Delivers 60fps speeds on max settings at 1440p in all of today's biggest games
✔️ More than double the performance of the GTX 1070
✔️ Offers RTX 2080 Super levels of power for a lot less

Read more in our Nvidia GeForce RTX 3060 Ti review
---
Nvidia GeForce RTX 3070
The best graphics card for ultrawide gaming monitors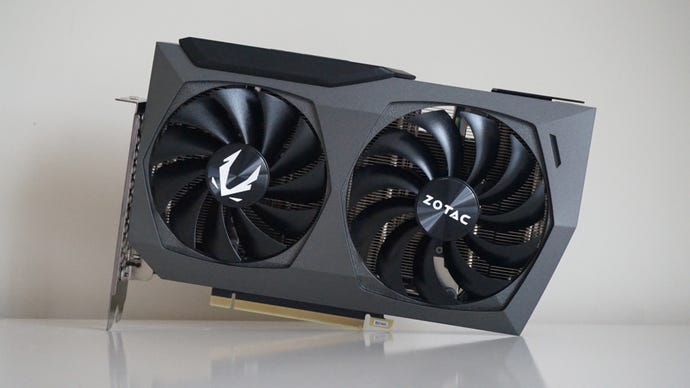 Playing ultrawide PC games is almost as demanding as playing them at 4K, but thankfully the lower 3440x1440 resolution of most ultrawide monitors means you can get away with a slightly cheaper graphics card as a result. For us, that's the Nvidia GeForce RTX 3070, although an older RTX 2070 Super or AMD's Radeon RX 6800 will also get the job done as well based on our testing.
In fairness, Nvidia's GeForce RTX 3080 is another fine choice for ultrawide monitor owners, and those determined to play games at the highest possible settings and the fastest refresh rates will no doubt get a lot of benefit from its extra horsepower. For us, though, the cheaper RTX 3070 is much better value overall, capable of delivering highly playable frame rates at 3440x1440 and below, and it's probably the closest thing to a "cheap" 4K graphics card you're going to get, too, if you don't have the budget for the RTX 3080.
Indeed, the RTX 3070 is more than capable of hitting 60fps in most of today's big games that support ultrawide resolutions, and it's got buckets of power for playing games at a regular, 16:9 resolution of 2560x1440, too, when games don't have any ultrawide resolution support. Indeed, the RTX 3070 can hit speeds of at least 70-80fps on max settings at 2560x1440, and 60fps at 4K on Medium to High settings. It's a great card for ray tracing at 1440p as well, making it one of the most versatile graphics cards around for high resolution monitor owners.
Oh, and don't be tempted by this card's tuned-up twin, the RTX 3070 Ti. This is very, very slightly faster on average, but nowhere near enough to justify the extra £100 / $100-ish is costs.
What we like:
✔️ Great 1440p performance with 80fps+ on max settings
✔️ 4K 60fps performance on High quality settings in most AAA games
✔️ More or less doubles the performance of the GTX 1070

Read more in our Nvidia GeForce RTX 3070 review
---
Nvidia GeForce RTX 4070 Ti
The best graphics card for 4K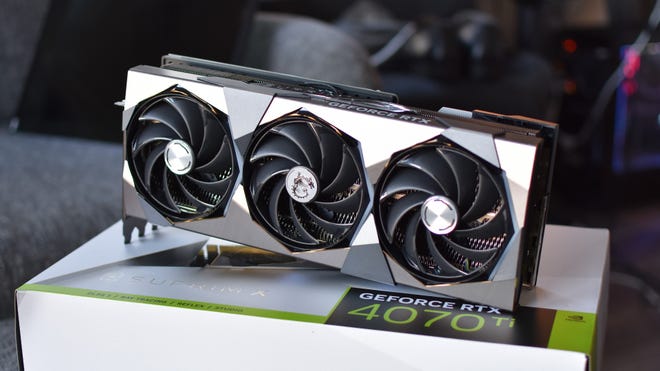 Like the RTX 4080 and the RTX 4090, the Nvidia GeForce RTX 4070 Ti could easily be the biggest investment you've ever made (or will ever make) on a gaming PC component. Unlike those other two GPUs, however, the RTX 4070 Ti's pricing isn't outright ludicrous.
At least, not when compared to the competition, and not when you resign yourself to knowing that a decently futureproofed 4K graphics card will cost plenty anyway. The RTX 4070 Ti is competitive on core performance with the AMD Radeon RX 7900 XT at this resolution, while costing slightly less, and its DLSS 3 support can make a huge difference in the games that support it. It produced smooth framerates in all of our max-quality 4K benchmarks even at native res, and when adding ray tracing to the mix, the RTX 4070 Ti proved far better at absorbing the performance hit than the RX 7900 XT and even the RX 7900 XTX. The RTX 4080 is faster still but with prices starting at £1269 / $1199, I can't honestly say it's worth it.
If you can't quite stretch to the RTX 4070 Ti regardless, the older RTX 3080 is a good, lower-cost alternative. It lacks the RTX 40 series' DLSS 3 support but still has the strength for most 4K games, with or without upscaling.
What we like:
✔️ 4K 60fps (if not faster) performance on max settings
✔️ DLSS 3 and improved ray tracing
✔️ Surprisingly efficient

Read more in our Nvidia GeForce RTX 4070 Ti review
---
Frequently asked questions
Why are some graphics cards so expensive?
If you've tried to buy a new graphics card since about September 2020, you'll know how hard it can be to get hold of one, and how nigh-impossible it is to do so at a fair price. Only now is the market correcting course, though some GPUs - like the RTX 3080 - are still often listed well above the RRP.
The good news is that graphics cards are no longer as useful to large-scale cryptocurrency mining operations as they once were, so without the demand of miners looking to make a quick, environmentally devasting buck, prices and stock availability have lowered and risen respectively. Some cards, however, are still feeling the effects of a series of manufacturing delays brought about by the Covid-19 pandemic, so we're not completely back to normal yet.
Which graphics cards have ray tracing?
Ray tracing can be a huge upgrade to how your games handle lighting, shadows and reflections, but you need compatible GPU to take advantage of it. Right now, that includes all of Nvidia's RTX 20 series, 30 series, and 40 series GPUs, and AMD's Radeon RX 6000 and RX 7000 cards. On the Nvidia side, that includes everything from the RTX 2060 up to the goliath RTX 4090, while AMD's ray tracing GPU range starts at the RX 6400 and ends at the RX 7900 XTX.
Intel have also released their first Arc graphics cards, bringing with them ray tracing support and Intel XeSS: an upscaling system similar to DLSS and FSR.
Which is better, AMD or Nvidia?
An age old question, the answer to which seems to change with every generation of new GPUs. Right now, Nvidia have a wider range of compelling options across all resolutions, from the RTX 3050 and RTX 3060 for 1080p to the RTX 4070 Ti for 4K.
In the past, AMD graphics cards have tended to be cheaper than Nvidia equivalents. That kind of went out the window when industry-wide prices went so screwy in 2020, and although AMD's latest flagships – the RX 7900 XT and RX 7900 XTX – have a major price advantage over RTX 4080 and RTX 4090, the arrival of the even cheaper RTX 4070 Ti tipped the 4K market back in Nvidia's favour.
AMD and Nvidia are at least narrowing on features. DLSS produces consistently better-quality upscaling than FSR, but AMD FSR 2.0 (also known simply as FSR 2) makes the differences harder to notice. That said, FSR itself isn't a reason to buy a Radeon card specifically, as it's available on all modern GPUs, Nvidia's including. DLSS does need an RTX card to work, so if you want the best upscaling, there's a much stronger reason to choose Nvidia.