Best CPU for gaming 2023: the top Intel and AMD processors
Our recommended CPU picks
Last year, the best CPUs for gaming didn't just get incrementally better, as with every year, but drastically, fundamentally better. Intel's Alder Lake family has already built on a brilliant launch with some much more affordable processors, like the Core i5-12400F you'll find below, and the AMD Ryzen 7000 series had a striking new design and lots of futureproofing features. Truly, an exciting time to be on the market for small silver rectangles.
Naturally, among all the talk of DDR5 compatibility, hybrid architectures and PCIe 5.0 possibilities, a gaming CPU ultimately needs to run games well and unlock the full potential of the best graphics cards. This remains a case of balancing core counts with clock speeds: faster cores will let your PC crunch numbers quickly enough to boost frames per second, and while having loads of cores has typically been better for workstations than gaming rigs, modern games are better optimised to take advantage of multiple cores at once.
Intel's current 12th Gen chips, the Alder Lake range, do a particularly fine job of finding such a balance. Their hybrid architecture can dedicate the fastest cores to gaming duties while offloading background tasks to smaller, more efficient cores – a clever tactic that's seen Alder Lake chips smash through our benchmarks.
For now, you can find our picks of the best gaming CPUs below, all based on in-house testing. You can also check out our handy guides to matching a new CPU with a compatible motherboard, how to install a CPU for the first time and whether air cooling or liquid cooling will better suit your PC build.
Best CPU for gaming 2023
---
Intel Core i5-12600K
The best Intel CPU for gaming, and the best CPU for gaming overall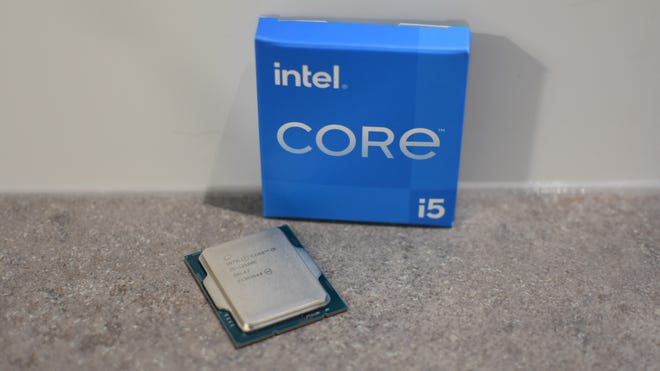 If Intel's 11th Gen Rocket Lake range was simply a stopgap, the Intel Core i5-12600K is what many will have been waiting for. While it's pricier than the Core i5-11600K (and its biggest rival, the AMD Ryzen 5 5600X below), it's worth it, thanks in no small part to the new hybrid architecture. The addition of E-cores up the total core count without muscling in too much on the thermal and power requirements of the main P-cores; as a result, the Core i5-12600K gets a major single-core performance boost compared to previous generations, and an even bigger enhancement to its multicore potential.
Granted, this doesn't translate into drastically better gaming performance, but there's still an improvement to the extent that this chip outpaced the Ryzen 5 5600X in our games benchmarks. Temperatures also run low enough for the Core i5-12600K to pair well with a basic air cooler, so your only other installation concern will be getting an Intel 600 series motherboard.
On top of superior performance, the Core i5-12600K also offers better futureproofing than the Ryzen 5 5600X. It supports DDR5 RAM as well as DDR4, and will be compatible with PCIe 5.0 hardware once it becomes available. Like all 12th Gen Alder Lake chips, it also ups the number of available PCIe 4.0 lanes compared to Rocket Lake. All in all, it's the best all-round CPU we've tested yet.
---
Intel Core i5-12400F
The best value CPU for gaming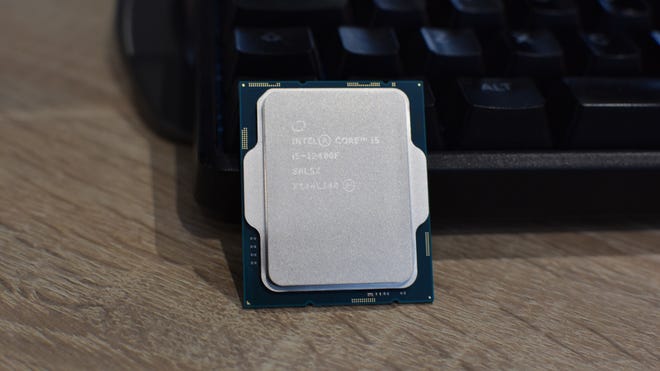 There's a serious argument for putting the Intel Core i5-12400F in the top spot of this list; in my gaming tests it was either on par with the Core i5-12600K or slightly faster, despite having fewer cores and a markedly lower price.
Honestly, if the Core i5-12600K wasn't unlocked for overclocking, and didn't have extra E-cores for handling background processes, it could well be the Core i5-12400F that comes out on top. But I'd still recommend it in a heartbeat, especially if you don't have the skills or means to try overclocking. Or, indeed, if you just want a PC for games and nothing else – the Core i5-12400F might 'only' have 6 P-cores, but as it happens, that's all you need to get top-quality performance even with a high-end graphics card.
Besides, the Core i5-12400F isn't exactly a slouch for general computing. It outperforms the Ryzen 5 5600X in Cinebench, and its modest power requirements help it run cool and quiet, even on a cheap air cooler.
---
AMD Ryzen 5 5600X
The best AMD CPU for gaming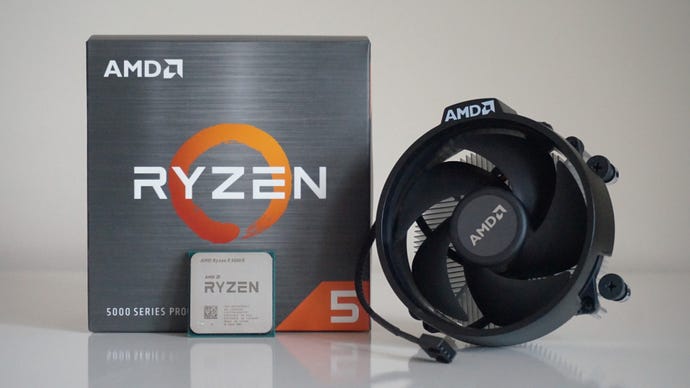 Intel's Alder Lake chips are more appealing overall, but the AMD's Ryzen 5 5600X is no less of an effective gaming CPU. In a lot of games you probably wouldn't even notice the FPS difference between this, the Core i5-12600K and the Core i5-12400F.
Indeed, thanks to AMD's Zen 3 CPU architecture, the Ryzen 5 5600X is both fast and highly efficient, reducing heat buildup and leaving more PSU power to go towards the graphics card. It also comes with its own cooler in the box, and you don't need mega expensive or massively fast RAM to get the best out of it, either - something which isn't always true over on Intel's side of the fence. What's more, the Ryzen 5 5600X is also compatible with all of AMD's X570 and B550 chipset AM4 socket motherboards, and most X470 and B450 motherboards will support it after a BIOS update, giving you loads of flexibility when it comes to picking a motherboard.
Yes, AMD's Ryzen 7 5800X and Ryzen 9 5900X CPUs are technically a bit faster and better-suited for things like video editing and streaming and the like, but if all you're after is a solid foundation for a good old-fashioned gaming PC, the Ryzen 5 5600X offers everything you need (especially when our tests show its gaming performance really isn't that far behind its more expensive siblings).
---
AMD Ryzen 3 3300X
The best budget CPU for gaming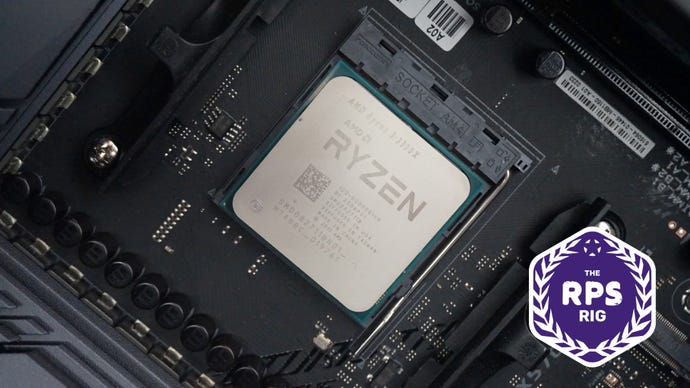 It's hard to find in stock these days, but the AMD Ryzen 3 3300X remains a seriously good entry-level gaming CPU...if you can get your hands on one. It's significantly cheaper than all of its Intel rivals, and offers a surprising amount of power for its modest price. Indeed, in our tests, it's pretty much on par with AMD's more expensive Ryzen 5 3600 and Ryzen 5 3600X CPUs, making it a much better buy for cash-strapped PC builders.
The Ryzen 3 3300X's general desktop performance is great for a quad-core CPU as well. In fact, its single core performance actually outranks the Core i5-10600K in my benchmark tests, cementing its status as one of the best value CPUs around. It's a fantastic choice for both gaming and daily desktop tasks alike, and it also comes with its own, very good cooler in the box, making it even better value for money.
Again, mind, the Ryzen 3 3300X has been very difficult to get hold of since it first came out, and it's currently unknown when or if it will come back in stock. At this point,you may also want to wait and see if the Ryzen 7000 series will have an equivalent entry-level model worth getting instead - there's a good chance it will, and with more modern features like PCIe 5.0 and DDR5 support.
---
Intel Core i9-12900K
The best high-end CPU for gaming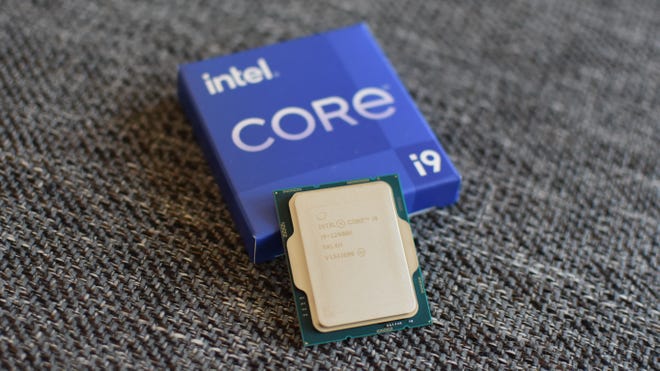 Let me start by saying that you absolutely do not need a CPU as powerful as the Intel Core i9-12900K just for gaming. Still, if you are willing to pay top dollar for only the very finest of central processing units, there's nothing on the market that beats this 16-core goliath on pure power.
Not even the Ryzen 9 5950X – which is, to credit Intel, even more expensive – can match the primo 12th Gen's mix of single core and multicore performance. As such, there is a genuine argument to make for it if you're also using your gaming PC for endeavours like streaming or video editing. And while the Core i5-12600K remains far better value for games specifically, the i9's extra P-core speed will help squeeze a few more frames out of top-tier graphics cards.
The Core i5-12600K also runs a lot cooler, and uses much, much less power under load, so you'll need to make sure the Core i9-12900K is accompanied by a quality liquid cooler and a high-wattage PSU as well. That's a lot of hurdles to jump, but at the end of it all you'll be rewarded with the fastest gaming CPU of the current generation.