The best 4K gaming monitors 2023
The top 4K displays for all budgets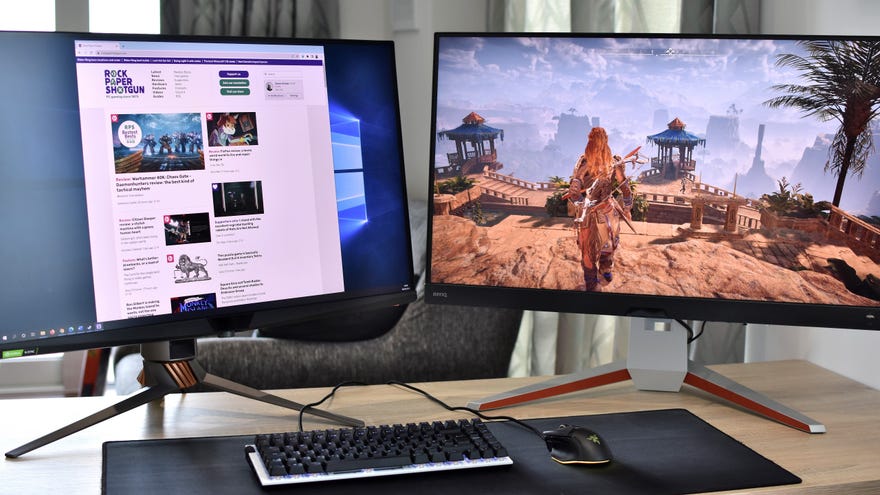 Playing games at 4K is nowhere near the fanciful cheese dream it once was. It's still best enjoyed with a powerful graphics card, especially since so many of the best 4K gaming monitors nowadays have 120Hz or 144Hz refresh rates to take advantage of, but I've seen even the cheap RTX 3050 produce playable framerates at this resolution. Especially with the aid of upscaling magic like DLSS.
With GPUs becoming ever more powerful, and ultra-high-res play becoming ever more attainable, I've upped my efforts recently to test as many 4K monitors as I can. What you'll find below are the best of the best, ranging from surprisingly affordable screens to the very pinnacle of currently available screen tech. All in service of making your games look as pin-sharp as possible, though just remember that if you don't have a top-tier graphics card, you'll have to lower some quality settings to keep that FPS up.
You can also think of this as an extension to our main best gaming monitors guide, which shares a few of these monitors amid its ranks, though has a broader focus on 1440p and 1080p monitors as well. Check that out if you'd rather sacrifice sharpness for faster performance.
The best 4K gaming monitors 2023
---
BenQ EL2870U
The best cheap 4K gaming monitor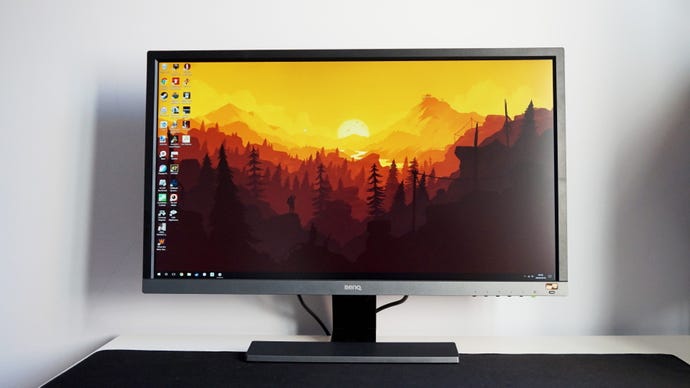 4K gaming monitors often cost an arm and a leg, but the BenQ EL2870U shows you needn't break the bank to get a great 4K display. It doesn't have as many bells and whistles as some of the other screens on this list, such as a high refresh rate or a height-adjustable stand, but its 28in TN panel is still capable of displaying rich, vivid colours to make your games look great.
It's not the brightest 4K gaming monitor in the world, topping out at around 280cd/m2, so you'll probably have to have it on max if you work or play games in a particularly bright room. Under normal lighting conditions, though, this should still be plenty for everyday use, and BenQ's clever ambient light sensor can automatically adjust the monitor's brightness to make sure it's always appropriate for your surroundings and help reduce eye strain.
The BenQ EL2870U also comes with AMD FreeSync support for smooth tear-free gaming, and while it's not an officially certified G-Sync Compatible monitor, Nvidia graphics card owners should still be able to make use of its variable refresh rate technology by enabling it in their Nvidia Control Panel. All in all, it's a great screen for the money, and you'll be hard-pushed to find a better-looking 4K display for less.
Read more in our BenQ EL2870U review
---
Dell UltraSharp U2720Q
The best no-frills 4K gaming monitor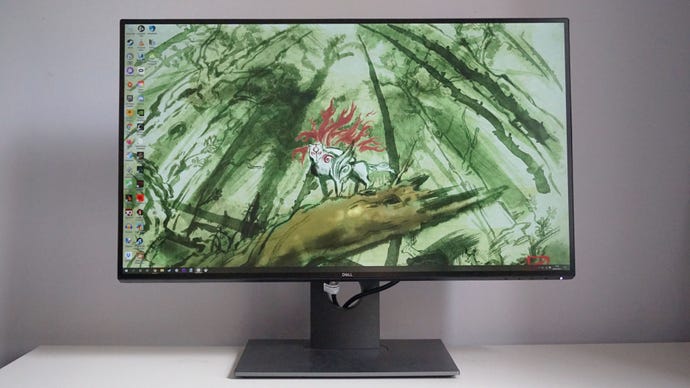 The Dell UltraSharp U2720Q made several key upgrades on the U2718Q that Katharine still uses as an everyday monitor, including proper VESA DisplayHDR 400 support for entry-level HDR, and a USB-C port with power delivery that you can use to charge USB-C laptops and smartphones.
It doesn't have a super high refresh rate like some of the other 4K monitors on this list, but if you're after a 'normal' looking 4K screen that's just as good for playing games on as it for home working, then this is the monitor to buy. The U2720Q shares exactly the same design as the U2718Q, including its super slim bezels, and its IPS panel is just excellent, producing rich, accurate colours along with great contrast and low black levels. Plus, the U2720Q's newly-added HDR support means you can really let those colours sing in compatible games, too.
Best of all, it has a height-adjustable stand, giving it an important leg-up over the fixed BenQ above. It's a truly great 4K display, and one that gets our seal of approval. Especially Katharine's.
---
Corsair Xeneon 32UHD144
The best 144Hz 4K gaming monitor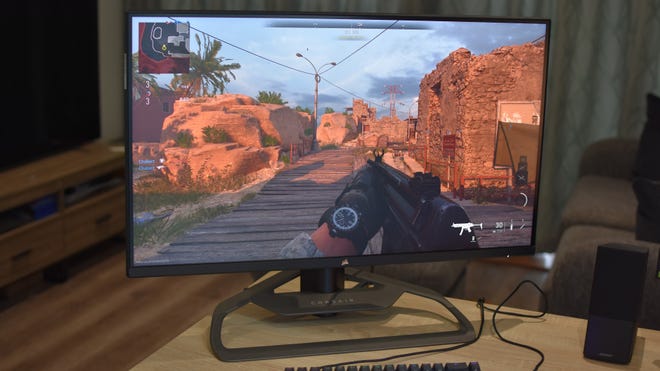 Here's a list of everything I don't like about the Corsair Xeneon 32UHD144: the stand is kind of big. That's it. This is a big, bright, intensely vivid 4K/144Hz gaming monitor that's a visible step up from mid-range alternatives (like the AOC U28G2XU/BK) while keeping the price… well, not low, but fair for the quality you're getting.
There are a few colour profiles in the OSD (itself simple and easily usable with the rear-mounted joystick), but even the Standard mode is gorgeous. This covers 99.8% of the sRGB and 99.6% of the Adobe RGB gamuts, with a comfortable 1019:1 contrast ratio, so games always look as bold as they do sharp. There's AMD FreeSync Premium support too, which morphs into effective Nvidia G-Sync compatibility when connected to a GeForce GPU.
HDR performance isn't outright dazzling, but with a peak of 686cd/m2 in Final Fantasy XV, it's brighter than most. And that desk hog of a stand is heavy-duty in a good way too, while offering ample adjustment for the main screen.
AOC U28G2XU/BK
The second best 4K 144Hz gaming monitor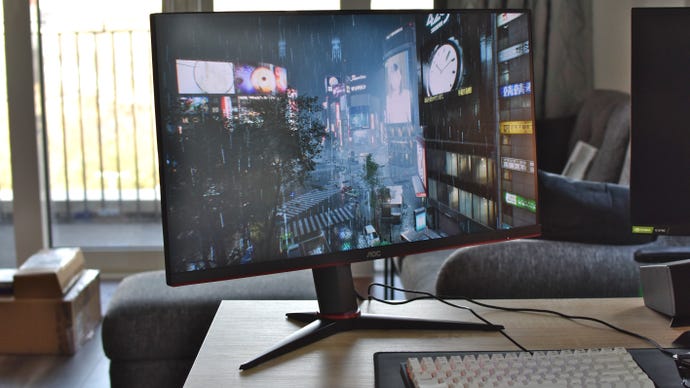 The AOC U28G2XU/BK remains the best 4K 144Hz monitor at its price, even if the more premium Corsair Xeneon 32UHD144 has greater allure on the whole. It also uses a colourful IPS panel, though is more on-target with its colour accuracy, hitting a very respectable 2.3 average delta-E (1 is ideal, and it's common for gaming monitors to exceed 4).
That makes the U28G2XU/BK a good choice for anyone who prefers a more natural colour profile to eye-punching saturation, though it's far from bland-looking either: I measured its out-of-the-box settings reaching 98.5% sRGB colour gamut coverage and a 1012:1 contrast ratio. It's smooth, too, with no real ghosting problems and support for both G-Sync and Freesync Premium Pro.
Its desk-friendly 28in screen size and highly adjustable stand round out a commendably constructed monitor. The only thing you'd have to give up is true HDR: the U28G2XU/BK has VESA DisplayHDR 400 certification, but I could only record it reaching 356cd/m2 in games.
---
Asus ROG Swift PG32UQX
The best 4K HDR gaming monitor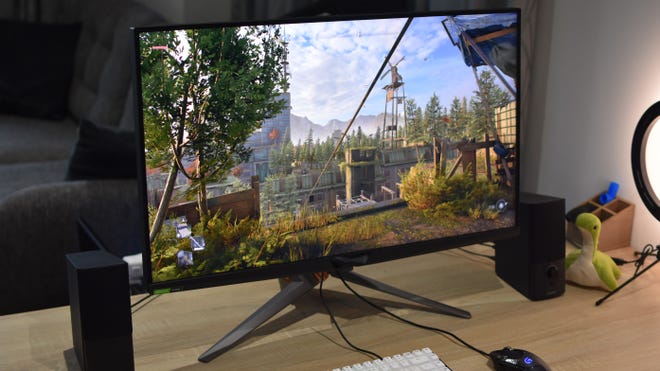 Oof. That much for a single monitor? Indeed, the Asus ROG Swift PG32UQX is the opposite of accessible; if anything, it's a statement of how far you're willing to go to get hold of the latest tech.
That said, it's also a very, very, very good 4K gaming monitor. Response times could be higher but everything I played looked glorious at 100fps+ 4K, and colour coverage and accuracy are truly top-tier. The ROG Swift PG32UQX is build to last too, with a reliable stable, adjustable and sharp-looking metallic stand.
What you'd really be paying for, though, is Mini LED backlighting. This is a generational upgrade on the crude edge backlighting you get on most IPS monitors, cramming thousands of tiny LEDs across the entire panel for a superior combination of high brightness, high contrast and bleed-free backlighting uniformity. If you want an IPS monitor that comes as close as possible to OLED performance, you should probably check our Mini LED. Its brightness benefits are of particular use to games that support HDR, as the ROG Swift PG32UQX can tip over the 1000cd/m2 mark on bright spots without unintentionally lighting up any contrasting dark areas.
Read more in our Asus ROG Swift PG32UQX review
---
Philips Momentum 436M6VBPAB
The best TV-sized 4K gaming monitor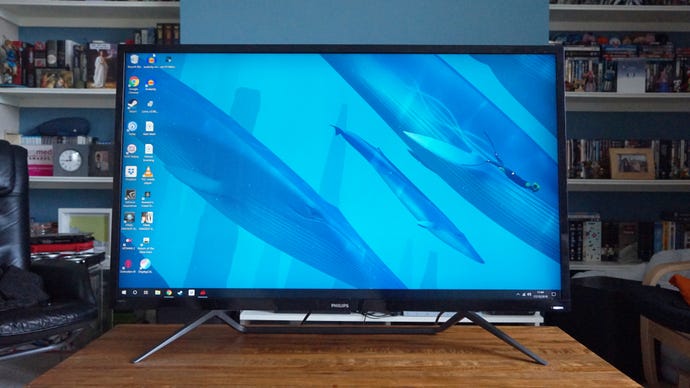 If you're more of a living room PC gamer, then you may be after a 4K gaming monitor that can replace or double up as your living room TV. Enter the Philips Momentum 436M6VBPAB, a large 43in gaming screen that is one of the best big 4K gaming monitors we've ever tested.
Its refresh rate may be capped at 60Hz, but the Momentum 436M6VBPAB still has a wonderfully accurate MVA panel, as well as top notch HDR support. Indeed, with its VESA DisplayHDR 1000 certification, it's even brighter and punchier than the Corsair Xeneon 32UHD144 above. Its variable refresh rate tech also means smooth, tear-free gaming isn't limited to just Nvidia graphics cards, as its adaptive sync support works with both AMD and Nvidia GPUs alike. It's a great pick no matter what's inside your current PC.
What's more, Philips' Ambiglow tech gives you a neat RGB lighting effect around the edge of the display, matching the dominant colours onscreen to help 'extend' your experience beyond the borders of the screen. If you enjoy that sort of thing, it's a nice extra that really lets you go to town with your lighting setup, but you can always turn it off if you prefer.
Read more in our Philips Momentum 436M6VBPAB review
---
Frequently asked questions
Why are lots of 4K gaming monitors only 60Hz?
It all comes down to how much bandwidth is available in your monitor's display inputs. It takes a lot of bandwidth to power a 4K display, especially once you throw HDR into the mix, and opting for more pixels often comes at the cost of a high refresh rate. For example, while HDMI 2.0 can quite happily support a refresh rate of 144Hz at 2560x1440, it's currently limited to just 60Hz when you move up to 3840x2160. DisplayPort 1.4, on the other hand, offers more bandwidth than HDMI 2.0, allowing up to a maximum of 120Hz at 3840x2160 with HDR - although some monitors will let you overclock them to 144Hz in their onboard menu settings. As a result, if you see a 4K monitor with a high refresh rate at the moment, there's a decent chance it can only manage that rate over DisplayPort. If you connect it to your PC over HDMI, you'll be stuck with 60Hz.
The good news is that HDMI 2.1 monitors, which allow for 120Hz refresh rates at 4K (and 144Hz with compression), have arrived. The world's first HDMI 2.1 gaming monitor, the Asus ROG Strix XG43UQ, launched in May 2021, with several more following it. DisplayPort 2.0 is also on the way, and should allow for 4K at 240Hz without compression, though we haven't seen any compatible gaming monitors announced yet (the Samsung Neo G8 uses compression to hit 240Hz).
Can a 4K monitor run at 1440p?
Yes. All you need to do is go to Windows' Display Settings, and set your Display Resolution to 2560x1440, as shown below.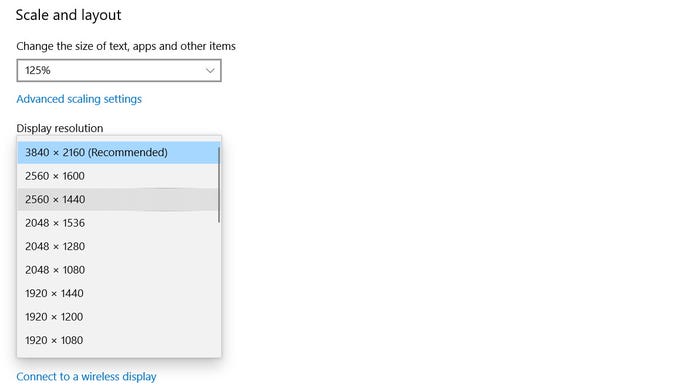 Are 4K gaming monitors worth it?
With their high pixel count and sharp, crisp pixel densities, 4K monitors can be brilliant tools for everyday desktop work. They provide plenty of space for looking at several desktop applications at once, and they also make it much easier to see and juggle multiple windows in creative applications such as Adobe Photoshop and Premiere Pro. If you regularly use these kinds of apps in your everyday work life, 4K monitors are almost definitely going to be worth the extra investment over lower resolution displays.
That said, if your main reason for buying a 4K monitor is to simply play games at a 4K resolution, then you'll need to make sure you've got a powerful enough PC to really make the most of it. This can end up being quite the costly endeavour, as you'll need one of today's best graphics cards inside your PC in order to play them at a decent frame rate. We recommend at least an Nvidia GeForce RTX 3070 or AMD Radeon RX 6800, although if you want to play at higher quality settings, then you really want either an RTX 3080 or RX 6800 XT. Under normal circumstances, these cards will set you back at least £500-700 / $600-800 - as much as your monitor in some cases - although given the current hardware shortages taking place at the moment, you're more likely looking at £1000 / $1000+.
Ironically, the cheapest way of getting a full-blown 4K gaming system in your house is probably buying an Xbox Series X or PlayStation 5. As we found out when we tried to build an equivalent Xbox Series X PC, we would have had to spend almost £1500 to get the same kind of 4K gaming chops as the Series X, which is over a grand more than what the console costs. In this sense, the question of whether 4K gaming monitors are 'worth it' depends very much on how badly you want to play games at this resolution, and how much you're willing to spend in order to get there.
Of course, there's nothing wrong with buying a 4K monitor and then using it to play games at 1440p. If anything, it gives you even more flexibility than lower resolution screens, especially if you're in the process of trying to upgrade your PC at the moment, or you're waiting for graphics card prices to come back down to normal again. And, even though 1440p is arguably more of a sweet spot for games in terms of balancing sharpness and performance, 4K monitors are much better for everyday desktop tasks, you'll likely thank yourself later for getting a screen with more pixel real estate.